Fluffy in Space
Play Fluffy In Space at Super Fluffy Casino - UK Online Casino.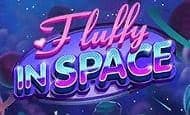 Register Here - Fluffy Casino - Fluffy Favourites
Fluffy In Space Casino
 Fluffy In Space is an intergalactic UK mobile slot with 5 reels, 3 rows and a fixed betway pattern of 25 paylines. This game has a nice 96.3% Return to Player Rate, which means medium to high variance and a fair chance of walking away with a payout. Bonus features include a brilliant Free Spins Bonus Round with the use of scatter symbols and 3x multipliers also in action. You can play this game at Super Mega Fluffy Rainbow Vegas Jackpot Casino in conjunction with over 700 UK mobile slots online. 
About Fluffy In Space
 Fluffy In Space is another addition to the many slots by Eyecon which follows our beloved Fluffy characters, a series of stuffed animal symbols which are featured in many Fluffy UK mobile slots by these developers. This game is accessible across all platforms and is easy to play for all abilities, featuring all of the usual Eyecon favourite bonuses and development features which we have seen in many of their games. The reel is just 5 reels and 3 rows in design, making the 25 paylines across the fixed betway pattern more than fair - this offers sufficient ways of winning which can offer left, right and diagonal paylines to boost your chances of winning in this medium variance game!
In terms of volatility, the 96.3% RTP rate is slightly above the average rate of variance which gives this game a medium to borderline high variance at this online casino. It is not uncommon for Eyecon to feature a generous variance, which is one of the many reasons behind their games being so loved by players. There is one slight drawback to this game, which is the famous Eyecon smaller betting range. In this slot, you can play with the slightly higher than usual betting minimum of £0.25, which is fair and low in cost.
However, you can think again if you want to bet high in this game as there is a strict maximum bet limit of just £12.50 - this is potentially one of the lowest betting ranges at this online casino. If you have played Eyecon slots before, this will not surprise you. Smaller betting limits can spark concern of the value of payouts which are available, but surprisingly, you actually can win some fairly high jackpots in this game from the smaller bets, which is rare for a low betting range and higher variance slot, at this online slots casino.
Colourful Theme
Fluffy In Space is formed as part of the Fluffy slot saga, featuring a collection of colourful stuffed animals, designed by Eyecon games and features in many of their mobile slots. The symbols and characters include hippos, horses, bears and gorillas all in colourful, cuddly cartoon symbols which form a very cheerful and likeable reel. This game, and all other Eyecon slots, is made to offer simplicity and easy access from all devices and player abilities at this online casino. 
The Famous Bonuses
Available Payouts & Jackpots
 As far as jackpots and payouts go, Fluffy In Space may surprise you with the volume of the prizes which are available. Despite the smaller betting range, this mobile slot does offer the chance to turn small stakes into reasonably high payouts through huge multipliers, generous bonuses and decent jackpot prizes. This game is known for a very good jackpot of 5,000x your stake, which is a huge multiplier by any slot standards.
This jackpot can actually produce up to £62,500 from a bet as small as £12.50, which is sure to put a smile on any players face - this jackpot is hard to come by however, as it does require a full reel of wilds and activation of the multipliers feature, which can be hard to combine in one payout. That being said, there are still strong payouts available outside of this jackpot such as 200x and 500x your stake for the wild symbol paylines - these can offer up to £6,250 from a £12.50 which is still an exceptional difference. Even the lower value payouts in this slot can offer up to 150x your stake, which certainly isn't bad for a medium variance game which only allows smaller bets at this online casino!
 Bonus Features & Free Spins
 Aside from the thrilling payouts in the main game and the very appealing 5,000 times your stake jackpot, Fluffy In Space is not exactly filled with bonus features. In fact, this game only has one special bonus round - but it is a good one. The Free Spins Bonus Round is where higher payouts and more fun is made in this mobile slot, as there are plenty of free games and multipliers on offer throughout. In this feature, there are up to 500 free spins available to win. Simply land a payline of 3, 4 or 5 of the all important scatter symbols to activate this feature.
The more scatter symbols you land, the more free spins you receive initially, and you can continuously trigger this feature more than once to receive more and more free spins throughout. There is a limit that this feature can only be activated up to 50 times, but this is fine as it would be rare to reach this limit anyway, at this online casino. The best part about this Free Spins Bonus Round is the active multiplier of 3x your win, which turns the basic payouts into the higher jackpot of 5,000x your stake - this is only available in this feature due to the multipliers, which make them an important feature of this game.
About the Developers & Similar Slots to Play
 Fluffy In Space is developed by Eyecon Games, known for plenty of colour and childlike themes which make their UK mobile slots very fun to play. If you want to try out more of the Fluffy slot series, be sure to try the popular versions of Fluffy Fairground and the original Fluffy Favourites by Eyecon, also available at Super Mega Fluffy Rainbow Vegas Jackpot Casino!